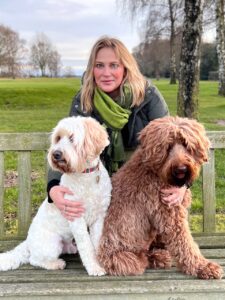 Hi, I'm Alex, owner and breeder of Vanilla Grove Labradoodles. Animals are my passion and I cannot imagine my life without them. Growing up, we always had dogs and other pets at home. In my teens, my love of animals naturally led me to become a volunteer in an animal shelter and later on I decided to pursue a career as a veterinary nurse. I have very fond memories of working in various practices around London for many years. I used to bring home many injured and stray animals (I had a very understanding husband :-)). Through my mid-twenties, I was the proud owner of 6 cats, 2 dogs, 4 rabbits and a poor old parakeet with an injured wing.
Animal health and welfare have always been the most important priority to me. All the animals I have ever owned and the puppies I breed receive my unconditional attention and love with no expense spared. I put all my clinical experience and passion towards achieving the highest breeding practices, guaranteeing the puppies have the best possible start in life.
I have owned many different breeds of dogs over time, ranging from terriers to hounds. When my sons were little, I became a proud owner of a British Labradoodle. I was totally smitten by their personality. My dog was the perfect family pet. From then on, I thoroughly researched Labradoodles and settled on getting our first Australian Labradoodle.
Our dogs and puppies are raised in our home or with our Guardian families, surrounded by love and immersed in all the normal sights and sounds of daily life. Our Australian Labradoodles are constant companions. We do not operate a kennel for our dogs and never plan to have one.
Our home is located the beautiful Hertfordshire countryside and are very lucky to have fantastic footpaths and fields on our doorstep. The amazing Heartwood Forest, the largest continuous new native forest in England, is a short drive away to take Our dogs for long walks.
BRITISH LABRADOODLE vs AUSTRALIAN LABRADOODLE
The British Labradoodle is a simple cross between a Labrador Retriever and a Poodle. British Labradoodles do not have consistent and non-shedding hypoallergenic coats. This is due to the fact they are not multi-generational dogs. Variability is caused by how much Poodle and Labrador Retriever genetics they have. They can have straight coat that sheds (taking after the Labrador) or a tight curly coat that does not shed (taking after the Poodle). They are not standardized, including their size.
Australian Labradoodles are bred to address a consistent conformation, coat type and personality. They almost always have a fluffy non-shedding coat because they are bred over several generations. Australian Labradoodles come in 3 sizes: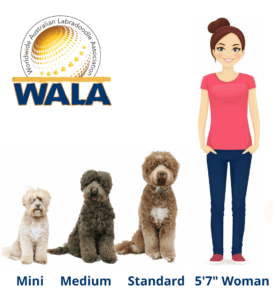 Miniature: 14 to 16 inches tall at the shoulder. Weighs between 20 and 30 pounds when adult.
Medium: 17 to 20 inches tall. Weighs between 31 and 45 pounds.
Standard: 21 to 24 inches tall. Weighs between 46 and 65 pounds.
When buying a multi-generational Australian Labradoodle, you will know with a high degree of certainty what the coat type will be when your puppy becomes an adult. Australian Labradoodles have a single coat ranging from loose fleece to loose curls or wool. They can be allergy friendly to many people who have dog related allergies.
COAT TYPES
Fleece: the texture is light and silky, often described as Angora. The fleece coat can be from loosely waved giving an almost straight appearance to deeply waved with soft curls.
Wool: the coat is denser to the feel, like a sheep's wool. It is extremely rare for a wool coat to shed and it is the preferred coat type for families with severe allergies.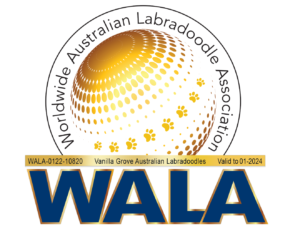 We are proud members of the Worldwide Australian Labradoodle Association (WALA) and are licensed by the St Albans District Council (LN/202300298).
We specialize in breeding medium size Australian Labradoodles with excellent temperament and appearance with non shedding, asthma/allergy friendly coat. We are proud that we produce happy, well adjusted, well socialized puppies who are extensively health tested and have fantastic pedigrees.
Our puppies make the perfect family pets. We are incredibly proud of Our dogs. We work very hard and ensure that our puppies are well cared from the moment they are born. All our puppies are always joining their new families well socialised with our other dogs, people of all ages, including children.
We focus on natural organic lifestyle and this is reflected in the care and food we give our dogs who are fed on home cooked meals with raw organic vegetables mixed with grain free kibble.
We always make sure that our "babies" are placed in the most loving and nurturing home environments.
You can read about more about us and the Australian Labradoodle breed on Dog Breeds Expert.