See the testimonials of many happy families who bought their Australian Labradoodle from Vanilla Grove Labradoodles.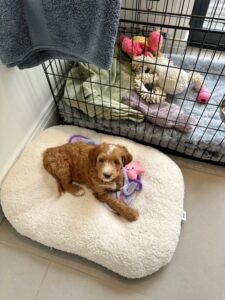 "Huge thank you to Vanilla Grove Labradoodles for making our journey to getting a dog such a special experience! Alex and Morgan where amazing from the get-go, helping to educate us on 'what to expect when you're expecting' (a puppy), providing advice, shopping lists, and a stream of daily updates and videos of the GORGEOUS litter! Now we are home we still feel that we can reach out for advice & we feel comfort in knowing we have support, where needed!
We are so in love with our puppy, Enzo & we are so grateful that he had such a safe, nurtured and happy start to his life. We highly recommend Alex & Morgan & cannot thank them enough for everything they have done."
Jamie & Laura, Shenley
*****
"If you are looking for an Australian Labradoodle then look no further than Vanilla Grove Labradoodles.  My husband and I have just
bought the most amazing puppy from this breeder.  Right from day one Alex and Morgan have been extremely welcoming and helpful.  They arranged for us to meet them   on their walk with both the mum and dad of the future puppies. Once the puppies were born we had daily photos and videos so that enabled us to feel an immediate connection with all the litter. 
Alex and Morgan have a beautiful home where the puppies were born.  The loving care they gave their litter was wonderful.  All the puppies were well socialised with the many visitors to their home. They were toilet trained, on puppy mats, and spent a great deal of  time with both their mum and dad.
We are over the moon now that we have our puppy at home with us. She is not only beautiful but very gentle and loving and extremely intelligent, all thanks to the breeders.
We would recommend Vanilla Grove to everyone seeking a reputable breeder of pure Australian Labradoodles."
Pat and Tom
Hemel Hempstead
*****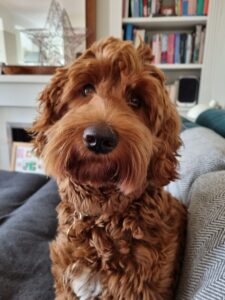 "I highly recommend Alex and Vanilla Grove Aussie Labradoodles. Our puppy is now 7 months old. She is intelligent, beautiful, affectionate and does not trigger my son's usual mild dog allergies. She had excellent early socialisation before we collected her, which I know because Alex sent us regular cute photos and videos of the litter. We are first-time dog-owners so it has been a steep learning curve for us and I am grateful for the encouragement and advice Alex continues to share when we need it. She knows her stuff and she clearly cares deeply about her dogs and puppies."
Sharon, Harpenden
*****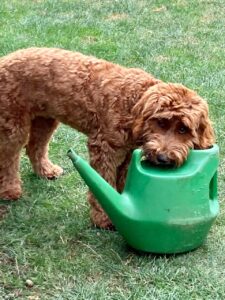 "I used to think the only good things that came out of Australia were Kylie Minogue and Chardonnay Wine but that was until I was introduced to Labradoodles! My wife and I were looking for a dog who was smart in appearance, intelligent and very cuddly in fact a replica of me!! We were guided to Vanilla Grove Labradoodles in Harpenden where the very pleasant Alex and her family reside and breed these PAWfect doggies.
Alex has extensive knowledge of the welfare and raising of Labradoodles from puppies to adulthood and is always there to answer questions no matter how trivial! Alex has a real passion for these beautiful creatures and makes sure the right fur baby goes to the right house and owners! The aftercare once the pup leaves its mother is second to none, and Alex takes a genuine interest in the development of the young dog. Our fur baby Pickle is one of ten and Alex set up a WhatsApp group so we can share experiences and photo's showing the progress of all the brothers and sisters in their forever homes. It's so good to know that we don't have the only dog that barks at her own reflection or chews on logs like a beaver!!!!"
Malcolm, Stevenage
*****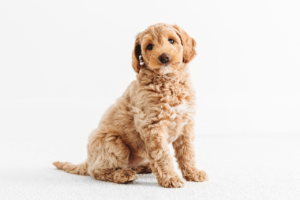 "Writing this, it's important for me to remember to review Vanilla Grove Labradoodles and not our beloved Lottie! Alex at Vanilla Grove Labradoodles has been a star. Her communication and advice has been so very useful to us – we cannot thank her enough.
Since our initial video-call (due to 2021 restrictions) we were updated with many videos of the litter's progress.
We were welcomed into Alex's charming home to meet our puppy some weeks prior to collection. It was beautiful to see the different character's of the litter playing together then. Plus we got to cuddle Lottie for the very first time.
Alex's selection could not have suited our family, including toddler and cat, any better. She allocated specifically for this home, the calmest, most gentle puppy we could have hoped to have received.
Since then, we have enjoyed keeping in touch with the rest of the litter's progress. Sharing our experiences and tips etc to a group chat of which Alex remains part. I could look at the group photos all day! We are so utterly in love. If you have decided upon an Australian Labradoodle, we are certain that you will be making the right choice speaking to Vanilla Grove Labradoodles."
Joe, Hemel Hempstead
*****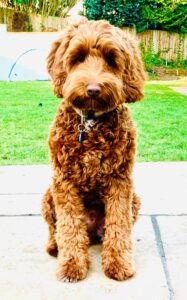 "As a family of five we were looking for our final member in the form of an Australian Labradoodle and we found Alex, her amazing family, and Vanilla Grove Labradoodles. From our first initial contact with Alex to picking up our brand-new puppy, Vanilla Grove Labradoodles were professional, honest, and acted with integrity throughout. Their love for Australian Labradoodles came over and we could see how much they enjoyed being a big part of their lives!! As a family we had regular updates in the form of photos of the puppies when they were born, to the day they had their immunisations, to the time we picked our bundle up. We were even on holiday and Alex accommodated us with a face time chat and update. Vanilla Grove Labradoodles were open to our preferences and were kind and generous in their communication to us as a family. Monty was happy, healthy, and full of beans when we picked him up and we have enjoyed him ever since. He is a great addition to our family, fantastic with kids, kind, loving and I don't get much done at home! I would absolutely recommend, with no hesitation, Vanilla Grove Labradoodles to anybody interested in adding to their family an Australian Labradoodle."
Sarah, Chorleywood
*****
"Our beautiful Dolly is a very happy, very playful and energetic puppy who absolutely loves everyone and every dog she meets.  She truly loves her life.  At home she is calm and very affectionate and is happy to follow us around the house and to quietly curl herself against your feet.  The Australian Labradoodle is indeed a unique breed, sweet-natured and not a bad bone.   We had no hesitation in having a puppy from 'Vanilla Grove Labradoodles'.  Alex welcomed us into her home to meet the litter and gave us as much time as we needed to answer our many questions.  Alex offers an amazing loving home and a wonderful start to life for the puppies she carefully nurtures till they are ready to leave.  They're the best!"
Angie, Redbourn
*****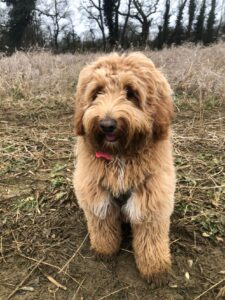 "After lots of research on the right type of dog to suit our family, and then spending more time looking for a breeder who's values matched our own, we happily found Vanilla Grove Labradoodles. Alex has been really generous with her time and attention in guiding us through our first puppy experience. From answering endless questions, to sending oodles of advice on our puppy family WhatsApp group, we feel truly supported on our journey. Our pup Olive is an absolute super star, calm in temperament, fun and playful and beautiful to look at. She's slotted in to our family and we can't imagine life without her now! Thank you Alex and Morgan for providing us with our much-loved family pet!"
Rachel, Ware
*****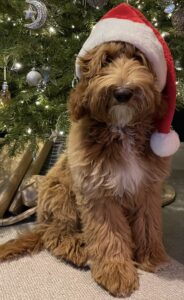 "Alex was incredibly helpful and full of advice from the very first time we contacted her and is still happy to answer any questions we have now months after we collected our boy Chester. Her dogs are beautiful, happy and well cared for in her family home, as are the puppies born there. She is a responsible breeder who puts a lot into checking out the families her puppies will be going to, which is only right and she loves to receive updates after they have gone to their forever homes too. Alex's communication really helps you feel involved throughout, she kept us updated on the planned litter and once the puppies were born she created a group for all of the puppy families, sharing regular updates on their health and development along with lots of photos and videos so we could see their progress. Chester is now 6 months old and has settled into our young family so well, he is sociable and friendly, loves to meet people and other dogs and is doing well with his training. We are so glad to have found Vanilla Grove Labradoodles and can't imagine our family without Chester now!"
Jane, St Albans
*****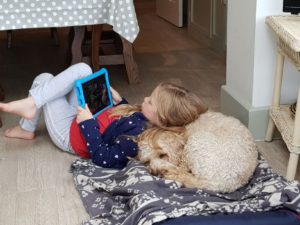 "We've known Alex for many years, so when we decided to get a labradoodle as our family pet she was our first choice. Her dogs are really well looked after and the puppies are born into a caring family environment. We have been incredibly happy with our dog and our kids love him to bits!"
Gia, Hertfordshire
*****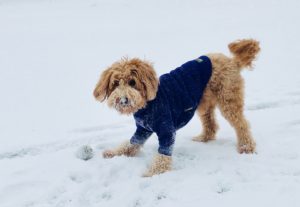 "We did some thorough research about Australian labradoodles and what the Australian Labradoodles Association stands for. Therefore we decided to look for a breeder who was following their principles but we did not want an early neutered puppy as we don't agree with this practice. We talked to quite a few breeders before we decided to go for Vanilla Grove Labradoodles. After meeting with them and their dogs, we knew this the right place to go to. Alex is really friendly, caring, helpful with all our questions and it is clear that she absolutely loves her dogs and breeding Australian labradoodles. She went way above and beyond our expectations and we couldn't thank her enough. We would not hesitate in recommending Vanilla Grove Labradoodles to anyone who wants a beautiful, well socialised, healthy puppy". 
Mel, Hertfordshire
*****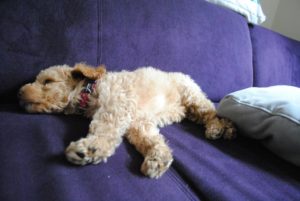 "Dear Alex, we wanted to thank you so much for helping us buy our beautiful puppy Bonnie. As soon as we visited you, we were reassured that we had found the right breeder for us. We found you to be so helpful and knowledgeable, all the puppies were beautiful, happy and we knew that we were making the right decision immediately. Bonnie has proved to be everything we hoped for, so engaging, loving and obedient, we literally can't imagine being without her now. She truly fitted in our home like she's always been here, even with our cats. We can't thank you enough for always being available to answer all our questions and for your advises. I would recommend Vanilla Grove Labradoodles to anyone who is looking for a lovely, 100% genuine Australian Labradoodle to add to their family." 
Eddie, Guilford