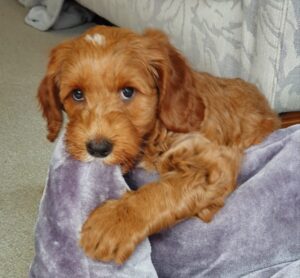 We are dedicated to a quality breeding programme that produces happy, well-adjusted, well-socialized puppies that have fantastic pedigrees.
We are always excited to announce the birth of new multi-generational Australian Labradoodles puppies. Check out the information and pictures below under "Available Puppies". Future planned litters can be found under "Planned Litters".
We accept reservation fees for the expected number of puppies in each planned litter. Vanilla Grove Labradoodles reserves the right to retain up to two puppies from any of our litters for our breeding programme and other breeders' programmes.
AVAILABLE PUPPIES
We are taking reservations for Maisie's litter. The puppies are expected on 25th September and will be ready to go home from 27th November.
PLANNED LITTERS
Are you local? If so, check out our exciting Guardianship Programme opportunities.
COST OF A PUPPY
Thank you for your interest in Vanilla Grove Labradoodles. Each puppy is the same price, regardless of size, gender, colour or markings.
Your puppy is reserved once we receive and review your puppy application, notify you that we feel we can meet your needs for a puppy and your £500 non-refundable deposit is paid.
Payment in full for your Vanilla Grove Labradoodles puppy is due no later than the litter is 7 weeks old.
PUPPY CONTRACT
Every puppy from Vanilla Grove Labradoodles comes with a binding contract. All puppies will be sold on a spay/neuter agreement (unless special breeding arrangements are made). We do not spay/neuter at 8 weeks of age, we believe that the puppies' physiological development takes priority.
VISITING DAY
We organise a visiting day when the puppies are 6 weeks old. This is when families can meet the puppies, their parents and of course us. We usually allow 45 minutes for each appointment to give you enough time to discuss any questions you might have. You will be able to see your puppy grow via Instagram and you will also be added to a WhatsApp group which we update regularly.
PUPPY PICK-UP
Puppies will be ready to go to their new homes on the day they turn 8 weeks old. We will be able to confirm that exact date as soon as the litter is born, giving you 2 months to plan ahead. If you are going away on holidays around this time, it might be preferable to wait for a different litter.
We understand that there might be situations when you are unable to pick up your puppy on the go home date. When possible, we are more than happy to keep your puppy for £20/day after our go home date (5 days window only) until you are available to get him/her.
PUPPY PACKAGE
All Vanilla Grove Labradoodles puppies go home with:
A 2-year health guarantee against genetic problems that would alter the quality of your puppy's life (conditions apply).
Fully health checked by a veterinary surgeon.
Microchipped.
De-wormed.
First round of vaccination.
4 week Petplan free insurance.
Scented blanket with mum and litter mates smells.
Toys with mum and litter mates smells.
Bag of high quality food the litter was weaned on.
Advice sheet with practical information about how to care for your puppy.
A puppy that is raised in an enriched home environment, by myself, an experienced Australian Labradoodle breeder, whose primary focus is the physical, social and emotional well-being and development of your puppy.
A lifetime support from Vanilla Grove Labradoodles.
PLEASE CLICK HERE TO SUBMIT YOUR APPLICATION
Want to see our previous Vanilla Grove Labradoodles puppies? Check out our Gallery and Instagram.